Live Feed
Hello Bulldogs, this is Mr. Capps with another important reminder. Bulldog students, please log into to your google classroom accounts tonight to make sure they are active and ready for tomorrow morning. All your teachers have sent you an email inviting you to join their google classroom. All classes begin tomorrow morning promptly at 8:30 am. For any additional questions please visit our Distance Learning website for assistance. https://sites.google.com/hesperiausd.org/ohhs/home
Oak Hills High School
3 days ago
Hello Bulldog Students and Bulldog Parents,
This is Mr. Capps your Principal with some important information and reminders. First and foremost, I would like to welcome you all to Oak Hills High School and the start of the 2020/21 school year. We hope you have all had a wonderful summer and are looking forward to the start of another incredible year at OHHS. The first day of school is Thursday, August 6th 2020 and it's hard to believe Oak Hills High School will be celebrating 12 memorable and extraordinary years. As you know the 2020/21 school year will bring with it the implementation of Distance Learning. Please go to the Oak Hills High School website, located at oakhillsbulldogs.com, to find important information pertaining to Distance Learning, including general information, the Distance Learning teacher/student schedule, parent help and tech support. Bulldogs, Teachers are currently sending out emails to their assigned students providing the information needed to successfully log into Google classroom Thursday morning. Distance Learning will begin for all students, Thursday morning August 6th and our daily schedule has changed. Please go to our website and click the Distance Learning link to see our new schedule. Bulldogs and Bulldog Parents, it will be absolutely essential for all students to consistently log into your assigned teachers google classroom daily, attend all class sessions and actively engage during all lessons. Furthermore, on Wednesday, students will check into Infinite Campus, complete asynchronous assignments, attend virtual meetings, go to tutoring and collaborate with other students. Bulldogs, due to increased enrollment and the need to level classes, please be sure to check your schedule Wednesday night for accuracy and the most updated schedule. The decision to implement Distance Learning as the model for educating the students of Oak Hills High School will require tremendous effort and student success will not come without challenges, but I am certain our students, teachers, staff and parents, are more than ready for the challenge. Thank you in advance for your support and always remember, Every Day is a Great Day to be a BULLDOG!!!
Mr. Capps
Oak Hills High School
4 days ago
Please check our website https://www.oakhillsbulldogs.com/ for the most up to date information. The first day of school is August 6. Please check the website for the student schedule and distance learning information.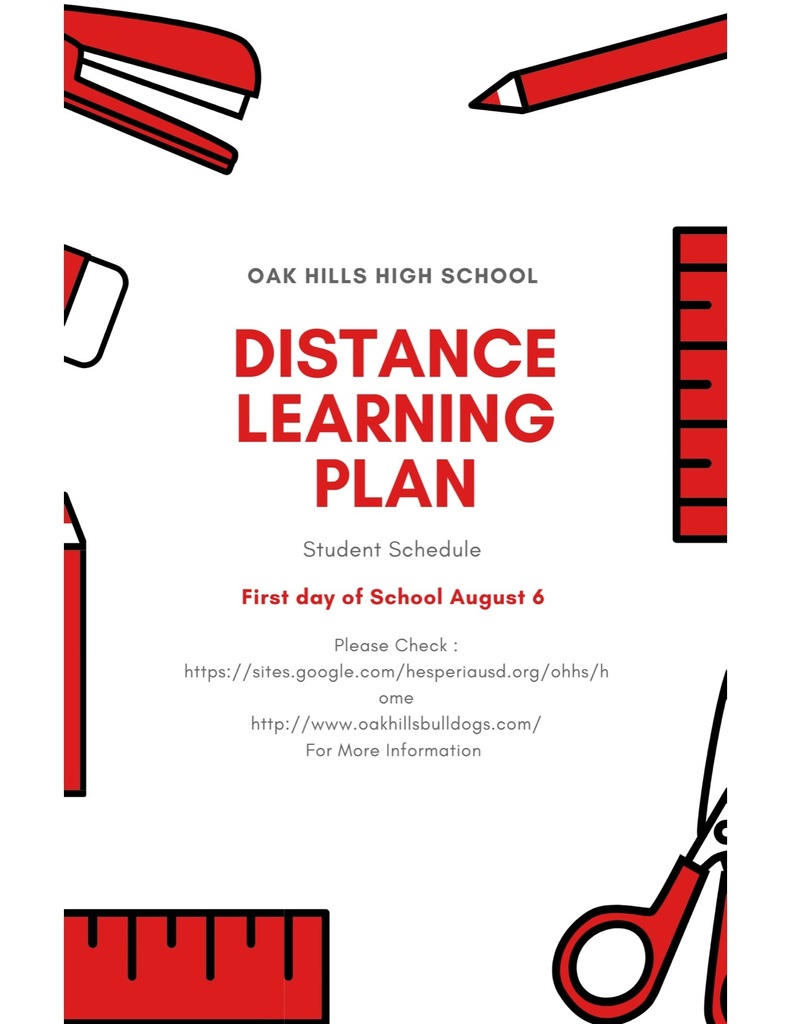 Oak Hills High School
5 days ago
Good afternoon Bulldogs and families. With the new school year fast approaching we will need to have our students come to turn in their old textbooks and chromebooks and pick up their new ones. I have attached the schedule that will be starting on Wednesday the 29th with the class of 2021. Thursday the 30th will be for the class of 2022. Monday the 3rd will be for the class of 2023 and Tuesday the 4th will be for the class of 2024. All students will come to the campus from 8-12 to exchange their items.
https://docs.google.com/document/d/1AHDWCxi7d-Uzoz159vO9VRK-r9k2R4sl3ekeWfSgAfo/edit?usp=sharing
Oak Hills High School
16 days ago
View All Posts »
Accreditedby the Western Association of Schools and Colleges
PBISSilver School
AvidSchoolwide Site of Distinction
JROTCAward Winning Bulldog Army